BUST OF OSCAR ROMERO
The goal of The Romero Project is to help generate funds for humanitarian efforts in El Salvador through the creation and circulation of 12″ rubber medallion molds of Monsignor Oscar Romero.
These molds, sculpted by Lado Goudjabidze, are given free of charge to schools, hospitals, churches and community centers in villages in El Salvador.

Provided with instructions on how to mix and pour inexpensive plaster into the molds to create a beautiful wall hanging, the Romero Project seeks to place in the hands of those of loved the late Archbishop, the means to generate additional income for their families, groups or organizations.
These plaster medallions, given to Salvadorans and sold to tourists, bring the image of the Patron Saint of El Salvador into homes as a blessing and prayer for peace and prosperity in a land that has known too little of both for far too long.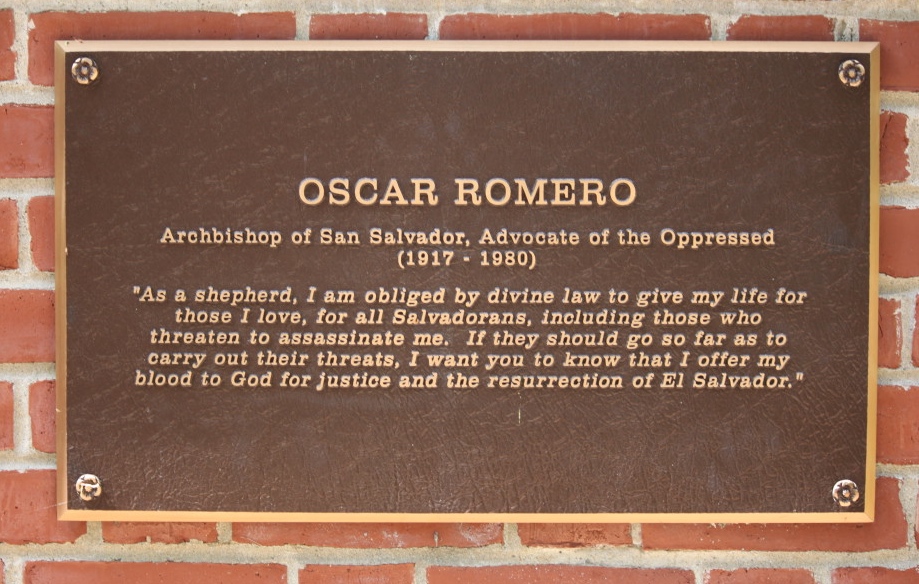 The Romero Project was launched in January of 2005 when Lewis Randa met with students from his alma mater, the University of Iowa while in El Salvador. The U of I Wesley Foundation and the School of Social Work had a delegation in El Salvador to do volunteer work and help launch the Romero Project. At that time, a cold cast bronze bust of Monsignor Romero was presented to the Pastoral Team at the Casa Pastoral Chapel.
The bust was a replica of the statue commissioned by the Peace Abbey that is placed at the entrance of the cottage where Romero lived on the grounds of the Hospital of the Divine Providence Cancer Hospital in San Salvador. The project took place with the assistance of Reverend Bob Cook, an extraordinarily committed Presbyterian minister from Des Moines, Iowa who has devoted his life to improving the lives of others in the village of Berlin, El Salvador. Key to the Romero Project was Yvonne Farley, Professor in the School of Social Work at the University of Iowa who mobilized her students and is credited for making the Romero Project a reality.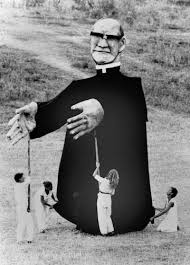 Gigantic Romero puppet in Bread and Puppet Theater performance during Contra war in Central America.   Bread and Puppet Theater and its founder Peter Schumann received the Courage of Conscience Award 2009 at the Peace Abbey.
Contact The Peace Abbey to inquire into how you can support the Romero Project in El Salvador.
Viva Blessed Oscar Romero!