"And I love that even in the toughest moments when we're all sweating it – when we're worried that the bill won't pass, and it seems like all is lost – Barack never lets himself get distracted by the chatter and the noise. Just like his grandmother, he just keeps getting up and moving forward… with patience and wisdom, and courage and grace."
– Michelle Obama
Barack Obama told us about his Grandmother, now let's tell him about ours! Join Governor Deval Patrick of Massachusetts and people from throughout the country and share a story about your Grandmother with President Obama and the First Family.
Express your Grandmother Love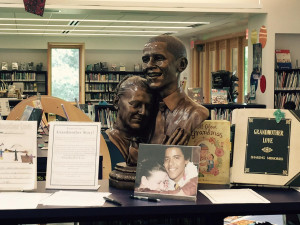 The bronze statue by Georgian sculptor Lado Goudjabidze poignantly brings to life the strong bond of love that bound these two together. During his campaign, Obama told us about his relationship with Grandmother, the love he felt for her and how she influenced him as he grew to be the outstanding man he is today. Now, through the new program Grandmother Love, we Americans have the opportunity to tell Obama and his family about our Grandmothers.
Everyone has a Grandmother story. Whether you see your Grandmother every day, once a week, on holidays only or if she is deceased or you have never met her – you have a story to tell.
Project Grandmother Love invites you to tell your story by means of an essay, a letter, a poem or even a drawing. Stories will be collected countrywide from people of all ages – from children who are just learning to print to elders whose handwriting may wobble a bit. All stories will be bound into a large book entitled Grandmother Love. The book and bust of Obama and his Grandmother will be presented to the Obama family as a gift from the American people.
Join the project! Write your Grandmother story in your own handwriting on an 8 1/2 X 11 sheet of paper. Also, be sure to provide a typed copy as well.
(Written by Ann Bekebrede of the Sherborn Council on Aging.)
---
SUBMISSION GUIDELINES
Written by Christopher Randa (Pictured with Grandmother Love Book)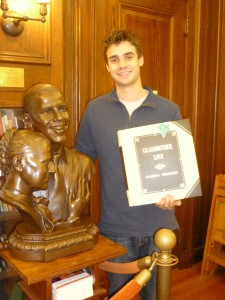 President Obama told the American people about the importance of his Grandmother in his life's journey. Now it is our turn. Please submit your entry to be included in the book Grandmother Love — a collection of stories, reflections and letters about the importance and influence of the grandmother(s) in your life.
Once filled, the book will be a gift to President Obama and the First Family along with the bronze statue (see photo) that has been commissioned of him with his late grandmother, Madelyn Dunham. The statue was sculpted by world acclaimed artists Lado and Shake Goudjabidze. All submissions must follow these guidelines:
1) All submissions must be both typed and handwritten. (Your handwriting personalizes your submission.)
2) We encourage submissions to be unique and creative. Some entries have come in the form of letters to grandmothers that are no longer with us, heart-warming/humorous stories, artwork, poems, etc.
3) All submissions must be displayed on only one side of 8 1/2 x 11 page(s).
4) Photographs and other two-dimensional inclusions are welcome, but will not be returned. Send a copy if original is of personal value.
5) Submissions should be emailed to The Life Experience School, 16 Lavender Street, Millis, MA 02054.
Grandmother Love is a project of the Life Experience School for special needs children and young adults.
THE PEACE ABBEY FOUNDATION | 16 Lavender Street, Millis, MA 02054 | 508.655.2143 | lewismranda@gmail.com
---
"And she died peacefully in her sleep with my sister at her side.
And so there is great joy as well as tears." – Barack Obama